The Soul Doctrine as a Way of Life ──5 Inner Revolutions to Change Life and Work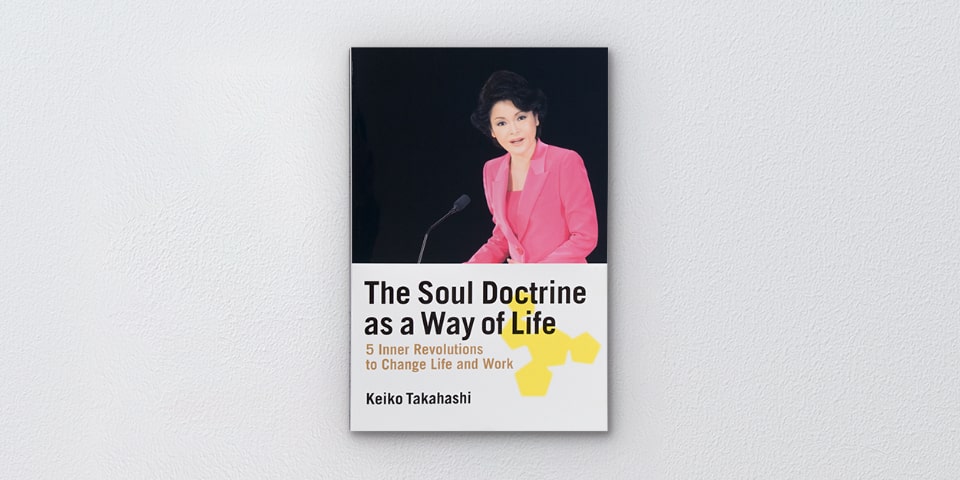 Do not waver regardless of any condition. Live strong, deep, and serene.
How can we live this new way of life brought about by the Soul Doctrine?
This book introduces 5 Inner Revolutions that will be the key.
The five persons depicted in the book have transformed their lives remarkably.
Their stories are non-fiction and is a story occurred in real life.
Introduction

Index

Prologue

Are You Not Sure about the Soul?
A Fictitious Town That Really Existed
The Question of "What Should I Do?"
The Question of "How Am I to Be?"
Forgotten Question
That Which Is Revealed at the Dimension of the Soul
Five Pioneers
Five Inner Revolutions for Mastering the Soul Doctrine as a Way of Life

Chapter 1: The First Inner Revolution
Add an Invisible Dimension to Your Life ─Discovering the Inner-Outer Exchange of Energy
Are These "Trivial Matters"?

"Power of the Mind Is Not Much Use"—Sense of Helplessness
The Pygmalion Effect: If You Expect Something, It Will Happen as Expected
Support Gives Strength to Athletes
An Experiment—Effect That Murmurs Produce
Developing the Means to Gather Thoughts in the Mind
Let Us Determine the Truth by Ourselves
An Additional Experiment—Human Relations Also Will Change
Mental Energy Will Be Changed into Physical Energy
The Power of the Mind to Build the Future
Inner-Outer Exchange of Energy Creates the World
"This Reality Cannot Be Changed by the Power of the Mind"
The Remains of a Former Reality—"Witch-Hunting Meetings"
Reality Created by Two Murmured Phrases
Don't Let People Use You—The Pitiful Mother
People Can't Be Trusted—The Father Who Abandoned His Family
If You Cannot Achieve Something, You Cannot Be Happy
Learning the Relationship between Mind and Reality
Decisive Discovery
Mind Is Set
The Massive Company Moved!
Two Letters—The Miracle That His Inner Change Brought About
Are You a Believer in Materialism, Transience, or Egoism?
Soul Doctrine Continues to Defy and Fight against These Trends
To Live with the Awareness of the Soul

Chapter 2: The Second Inner Revolution
Transcend "Good or Bad" ─Introduction of Chaos

We Don't Want an Insipid Way of Life
Is Good or Bad Enough?
The Shackles of the Pleasure-Seeking Principle
Everyone Oscillates between Pleasure and Pain
The Three Streams of Influence Create Our Own Common Sense
That Constrains Us
Can the World Really Be Divided into Two?
Add the Dimension Called Chaos to Your Thoughts
Perceive This Moment as Chaos
Obtain a Transcendental Perspective
The Sense of "Trials Are Callings" Transcends Pleasure and Pain
Strata of Meaning—In All Events, There Is a Necessity
Was That an Inevitable Crisis?
Three Streams of Influence—Bearing the Unconditional Command and the Way of Life of Maintaining Moderation
Cornerstone of a Change—People and the World Became Closer
Chance to Make a New Product—Employees' Possibilities and a New Path Come into View
I Want You to Dive Deep into the Soul
With a True Heart, Interact with Chaos, Which Is the Present
Manifesting Latent Wisdom and a Sense of Resonant Collaboration
Monumental Achievement of the Second Founding of the Firm
Visible World Had Changed—Truth of the Strata of Meaning

Chapter 3: The Third Inner Revolution
Live by Drawing a Blueprint or Vision ─The Power of the Soul Latent within Us

The Blueprint Is Close By
Have the Sense of the Blueprint—Drawing Closer to the Best Possible Path
For Everything, There Is a Blueprint
The Blueprint Is Connected to the Soul
Seek the Blueprint, That Is, Aspirations and Goals
Mission of Human Beings—Responding to the Blueprint, "How Am I to Be?"
Each Person's Vision Will Create a New World
What Kind of Blueprint to Have for the Era and Society?
It Began from the Age of Discrimination
Family Bloodline—Lost Family Bonds
Aspiration of Life—Blueprint Engraved in the Soul
The Family That Lost Its Mainstay
Management Based on the Study of the Soul—Practiced at Company A
What Did He Regard as Important?—Focusing on Aspirations and Goals
Why Was That Choice Possible?—Blueprint That Guided His Life
Aspirations and Goals Continued to Guide Reality

Chapter 4: The Fourth Inner Revolution
Shift from the Kaho Side to the In-En Side ─Regaining the Initiative in Life

Have We No Initiative?
Having Choices Is Evidence of Initiative
The Decisive Decision Lies Here: Whether to Be on the In-En Side or the Kaho Side
In-En Side Creates the Cause
In-En-Based Human Beings Live the Mission of Human Beings
From the Kaho Side to the In-En Side—Stages of Development of the Three Happinesses
The Kaho Side Leaves It to Others, Leaves It to Luck in the End
The In-En Side Has the Initiative Even in Severe Situations
Our Mentality Wavers between the In-En Side and the Kaho Side
Examining the Gap between Position and Mentality
The Depth of the Path of the In-En Side That Tug-of-War Teaches—How to Achieve Resonant Collaboration
Challenge in a Disaster Area
I Never Had Anything to Do with Horses—Beginning on the Kaho Side
Facing Club Management after Husband's Death—Urged toward the In-En Side
"Become a Mother of Thoroughbred Horses"
Single Path of Her Destiny Laid Out—Path of In-En Side Has Begun
Path Engraved in Her Soul
In-En Side Practice

Chapter 5: The Fifth Inner Revolution
Accept Everything as Conditions ─The Soul as the Axis of Life

Everyone Was Born Harboring Ardent Aspirations
Having a View of Life—Tale from Karmic Destiny to Mission
Why Does Karmic Destiny Exist?
Karmic Destiny Is a Launch Pad to a Mission
How Can We Say Everything Is a Condition?—The Soul Has That Much Capacity
The Pain of Committing the "Error of the Century"
The Perfectly Timed Encounter—"This Was My Life"
Everything Was a Condition
Whether I Live or Die Does Not Matter
Each Person's Way of Life That Accepts Everything as Conditions
Live Strong, Deep, and Serene

Price(apple book/Kindle US$14.99)