Yatsugatake Inochi-no-Sato
Yatsugatake Inochi-no-Sato
The "Hometown of the Soul", surrounded by the natural scenery of the Yatsugatake mountains
"GLA Yatsugatake Inochi-no-Sato" is one of the general headquarters' training facilities. Familiar to many GLA members, it is a place where age-based seminars and other events are held. Inochi-no-Sato offers a number of facilities, including the heart of the facilities, the "Life Memorial Hall", as well as a lecture hall that can accommodate up to 1,800 members.
Life Memorial Hall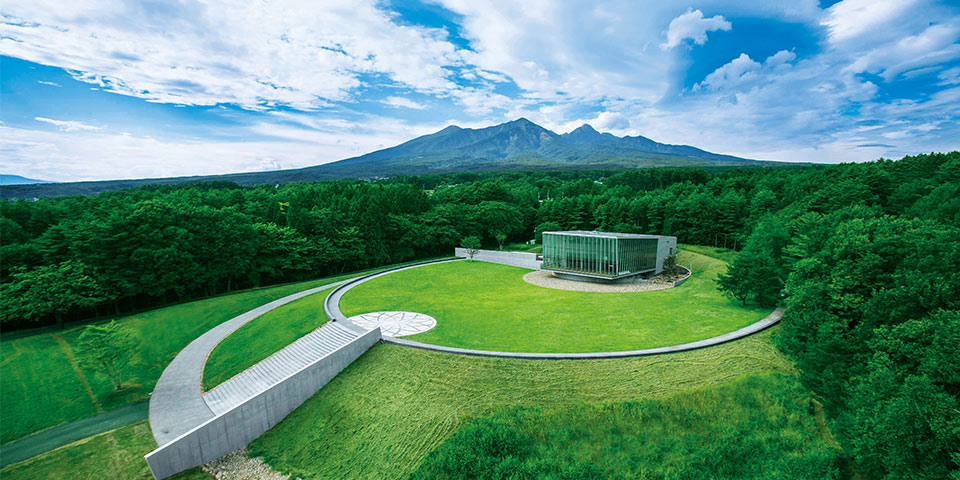 The Life Memorial Hall, the heart of GLA Yatsugatake Inochi-no-Sato, opened in September, 2012. Since then, it has received over 10,000 visitors each year, and an increasing number of people visit even when seminars are not being held there.

One of the objectives of the Life Memorial Hall is to preserve the footsteps of former members to future generations. The idea is that members work while they are alive to create a "Life Record" that they then store in the Life Memorial Hall. It is a practice of a new type of tradition of passing down one's life to future generations, and is a new form of funeral system, where every single soul's importance is emphasized. Depending on the individual's wishes, remains can also be archived alongside the Life Record.

Another role of the Life Memorial Hall is to serve as the core of prayer halls of the entire GLA. By visiting the hall, we are guided by deep prayer to the path of living as a soul.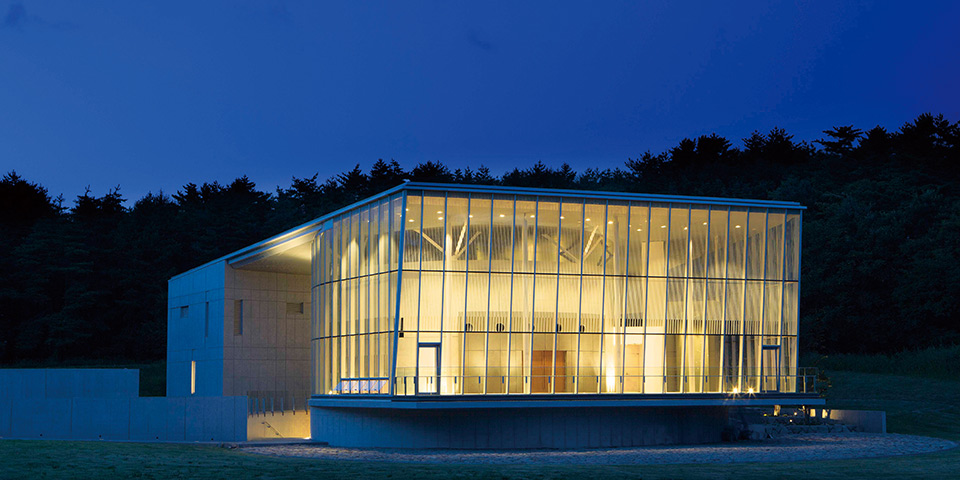 Earthly Star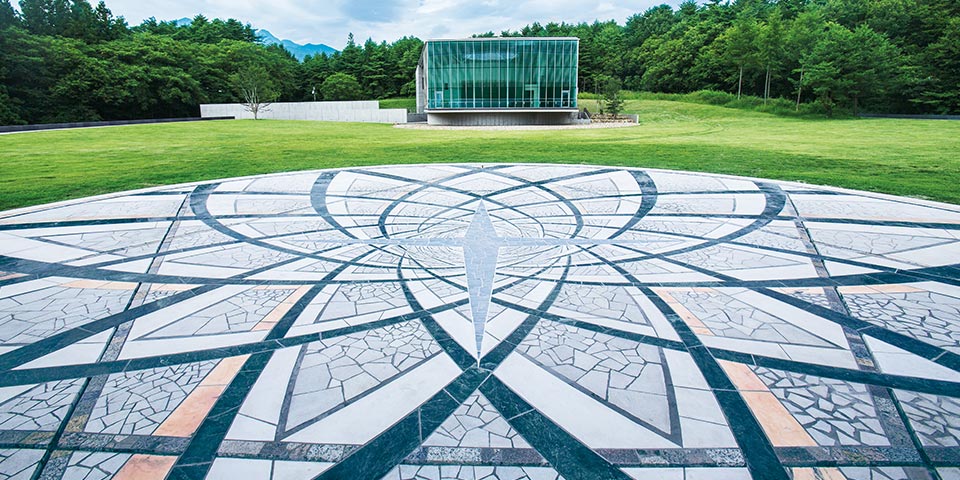 Specifically developed in accordance with Keiko Takahashi Sensei's wishes to "have a place to pray both in the wilderness and under a roof", Yatsugatake Inochi-no-Sato has both a "Celestial Star" – a prayer space inside the church – and an "Earthly Star" located outside amongst the local nature.

The "Earthly Star" erected in the front garden of Life Memorial Hall is a circular geometric pattern, 15 meters in diameter, based on one of Takahashi Sensei's own designs. It is a symbol of the journey of us who try to move forward as stars of the earth: Taking on ordeals in Saha (place of sufferings) and trying to get out of karmic destiny to fulfill our mission. It is a prayer spot surrounded by nature.
Celestial Star (Prayer hall)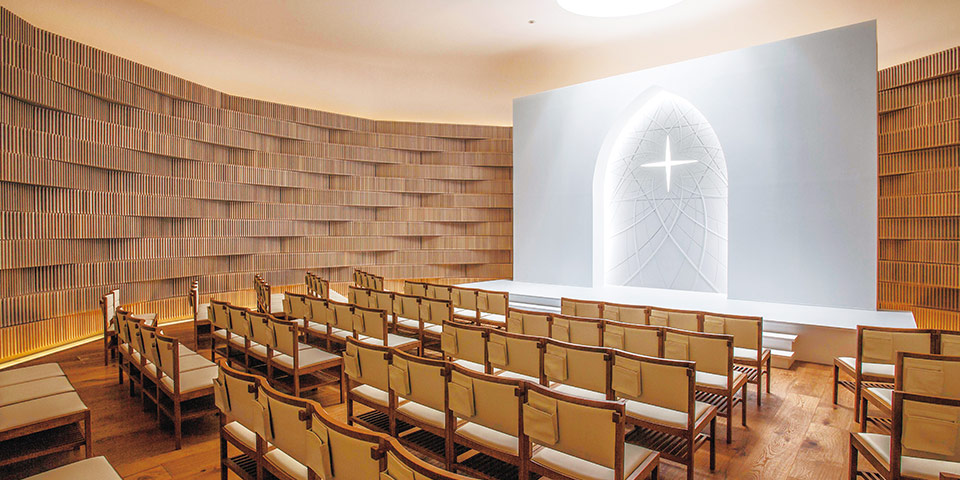 The Celestial Star shines brightly at the fore of the prayer hall.
It is the Big Cross, representing a "vertical bond with the great existence" and a "horizontal bond linking our eternal lives." Takahashi Sensei expressed the light, which is invisible to us, in such a vision.
Surrounding the Big Cross are representations of the six forces that affect entire world – source forces of all beings' transformation cycle (flow, circulation, linkage, structure, balance, and emission).
Life Record Room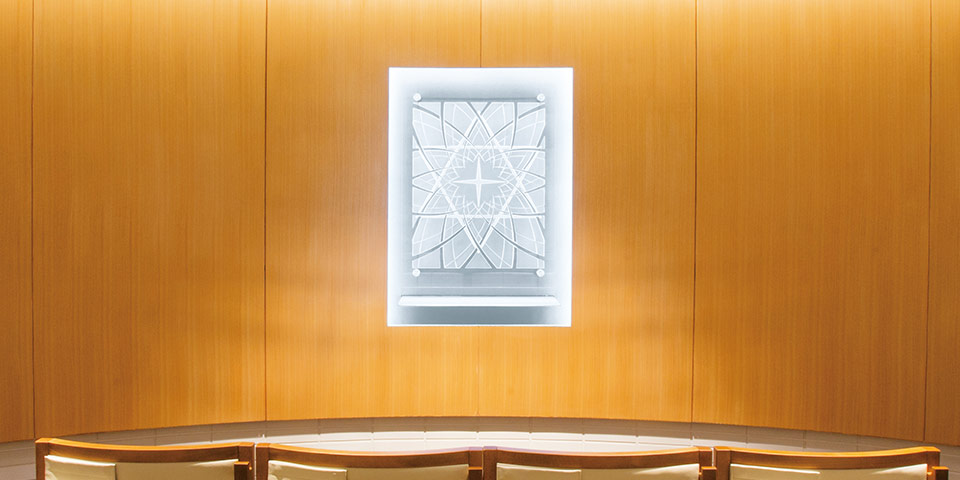 Members who wish to do so can place their "Life Record" (Their living form, footsteps, thoughts they held dear while alive, messages they want to pass on to grieving family or later generations, etc.) in the basement floor of the Life Memorial Hall. These records are converted into videos to be preserved for many years, so that surviving family members can view them in the Life Record Room during funeral rites and similar occasions.
Ashes Room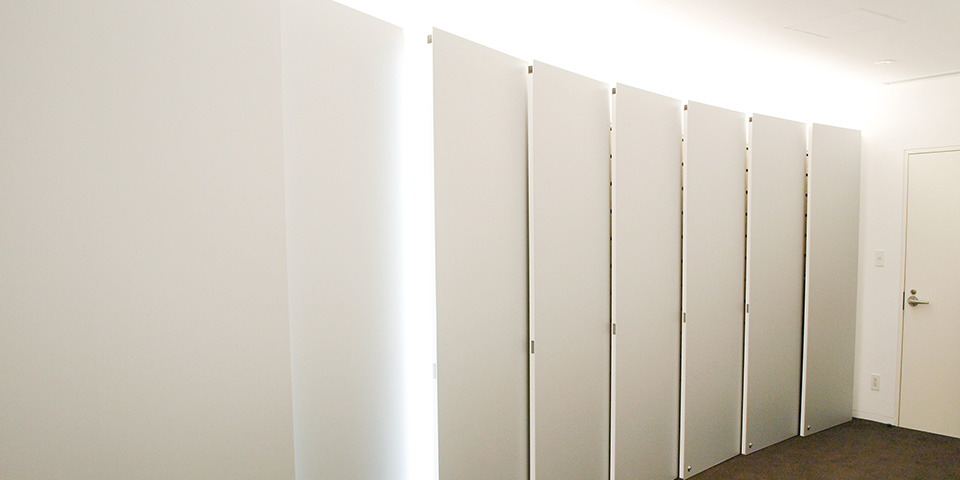 Along with the Life Records, the basement holds an "Ashes Room" to which members can entrust the last impressions of their physical form and express gratitude for the service it has provided. The room is constantly bathed in light from the great existence, providing protection and watching over those inside. There is no higher honor than to be dedicated to the same room as the founder Shinji Takahashi Sensei himself, as well as his numerous followers, at the end of life's journey.
Monument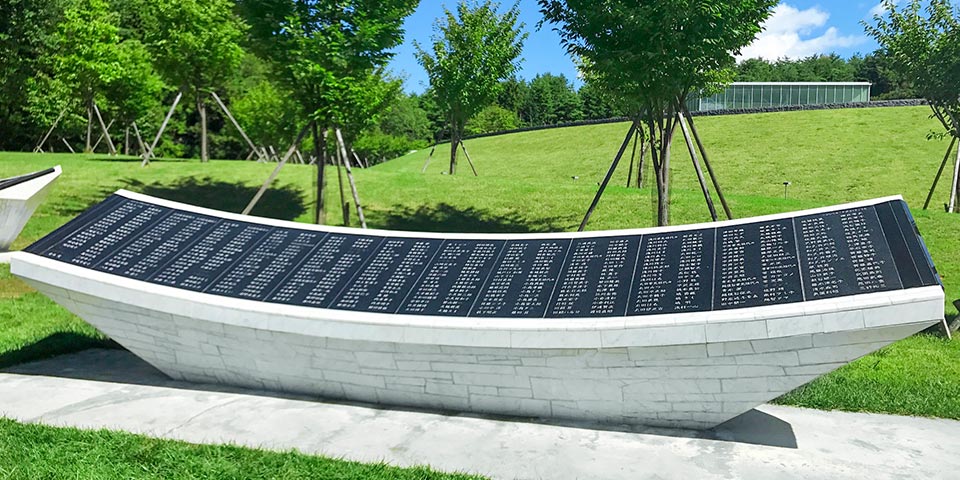 A keyaki forest stretches along both sides of the route to the Life Memorial Hall.
A monument is installed along that route, carved with each and every name of the souls who dedicated themselves to the Life Memorial Hall.
This monument serves as a testament to our desire – the desire to walk alongside them on the same path in This World, even after they have departed to the World of Origin. –
| | |
| --- | --- |
| Opening Hours | April to November Opening Hours: 10 a.m. to 5 p.m. December to March Winter Opening Hours: 10 a.m. to 3 p.m. |
| Holidays | The area will be closed during seminars, training, gatherings, or other such events. |
For those who wish to visit the Life memorial Hall, please directly call "Yatsugatake Inochi-no-Sato Life Memorial Hall" to make a reservation.
Address/Access Information
4281 Murayamanishiwari, Takane-cho, Hokuto-shi, Yamanashi 408-0018 Telephone: 0551-47-5545 (Main) About 10 minutes by car from the Nagasaka Interchange.
About 15 minutes by car from the JR Central Nagasaka Station.

*When traveling by taxi, please request to go to "GLA Yatsugatake Inochi-no-Sato."
GLA Yatsugatake Grand Lecture Hall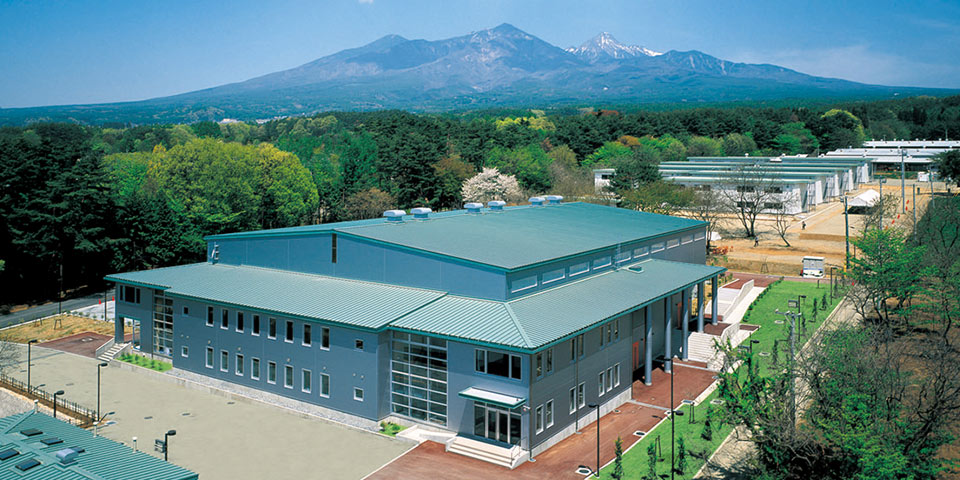 This training facility (completed in 2002) is capable of seating approximately 1,800 members and is the primary venue for seminars held from spring through fall. GLA has also striven to reinforce the structure and continues to prepare and equip it to withstand disasters. The building is available to local residents in times of disaster as well.

GLA Yatsugatake Training Center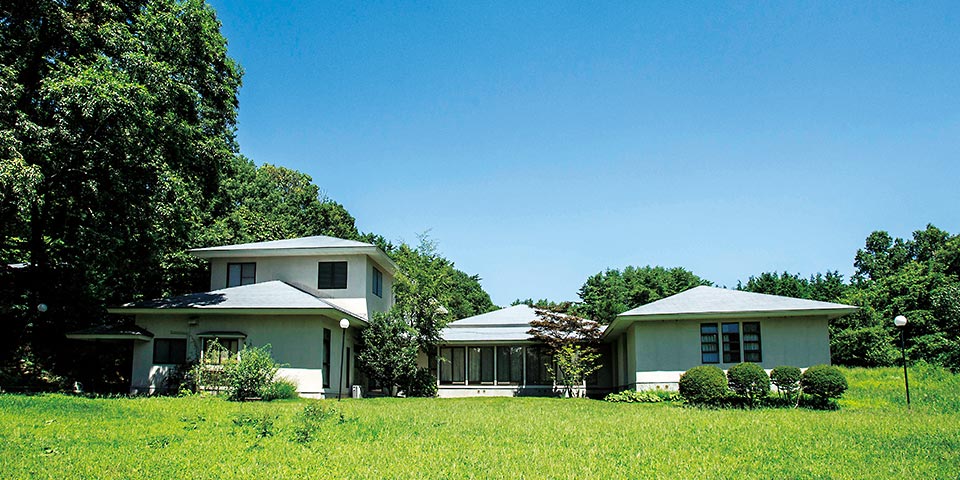 A training facility (completed in 1987) aimed at training smaller groups of people (such as holding "Shikan Sheets (Reflection and Insight Sheet) Training"). It includes accommodations and an outdoor plaza for meditative purposes. This is the oldest section of Yatsugatake Inochi-no-Sato and dates back to when the very first Project (volunteer) members were ardently working on the site. Their work started when they trimmed back the grass, gathered up the rocks, and leveled the ground.
Their minds and labor combined to create this place, nestled amongst the natural surroundings.
Other Assorted Facilities
GLA Yatsugatake Inochi-no-Sato Southern Lecture Hall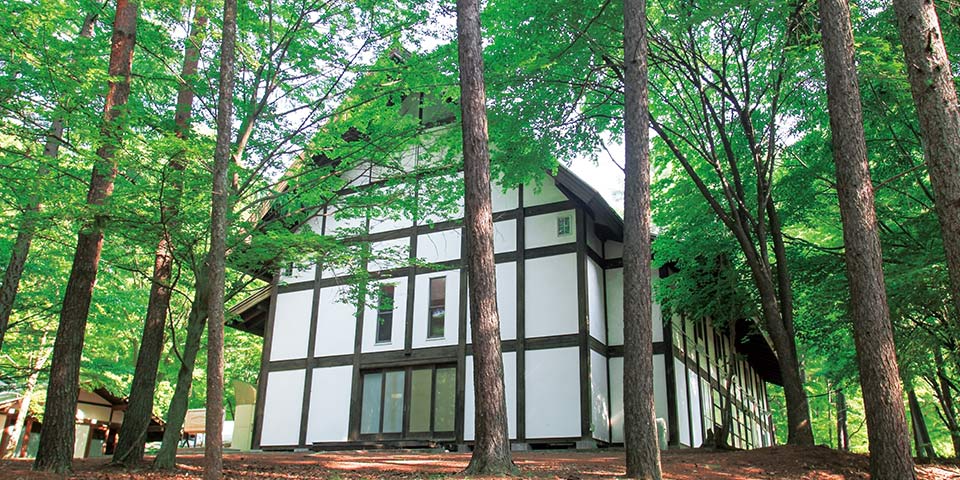 Built in 1990. Various training has been carried out here up to the present day.
GLA Yatsugatake Inochi-no-Sato Plantation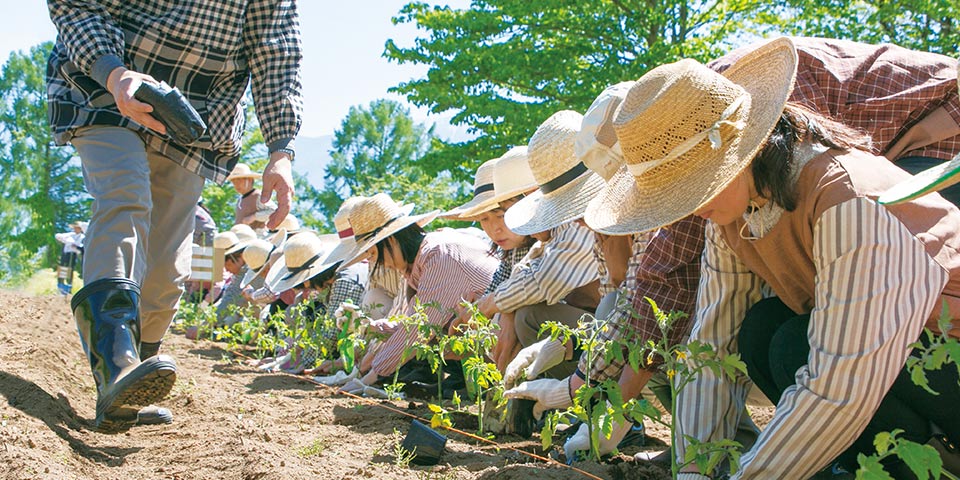 A plot of farmland started in 2016. Many vegetables, such as eggplants and pumpkins, are grown here.
Bungalows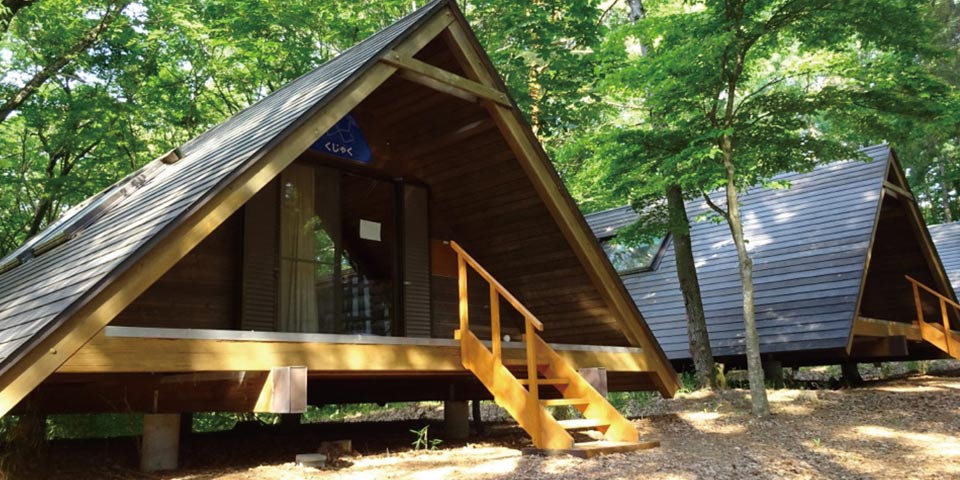 These bungalows were built by GLA members. You can see the starry sky from their skylights.
Promenade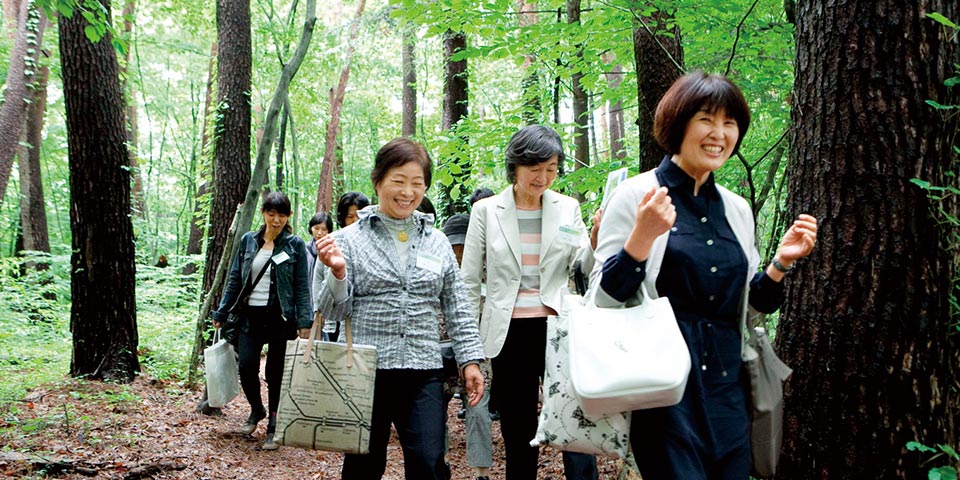 A calming pleasant forest walkway surrounded by various trees.