Your Best for a New Era ──Finding Your Purpose in Life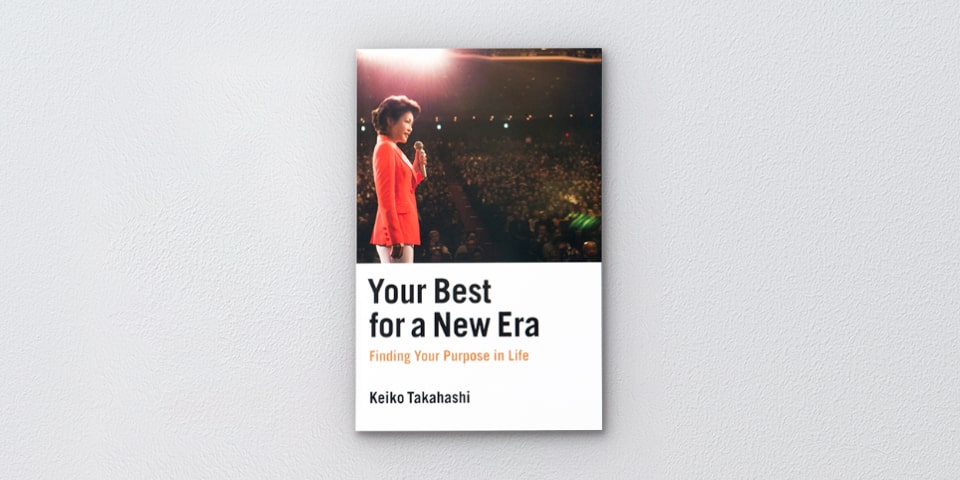 This book will guide you to draw forth an unimaginable power within you and bring you a deep sense of fulfillment to feel "this is the reason I was born".
Introduction
With five real-life stories depicted in this book, it will explain the way to find your life work = mission work to feel "this is the reason I was born".
Index

Introduction: Your Best for a New Era

What Can One Person Do?
Even So, We Should Be Able to Choose Our Future
Drawing In the Finely Woven Network
Every Individual Holds the Key
Can the Gate Be Opened to a New Era?
A Big Wave: The Problem of an Aging Society with a Falling Birth Rate
Collective Sleep
Everyone Becomes a Main Player
Doing Your Best for a New Era
Mission-Work That Brings Out Our Best—I Will Protect This!
We Are Already in the "Realm of Possibility"

Chapter 1: Mission-Work Orchestra

Mission-Work That "Creates"—Guided by an Ache Deep Within
Mental Anguish in Spite of Success
The Starting Point toward the Mission: "What Is Most Important to You?"
At That Moment, an Inner Explosion Occurred
Life Work That No One Else Can Do
Encounters in Pakistan—Bonds between People That Expand like Ripples
Toward Launching a Wheelchair Grant System in Pakistan
Work That Brought About a New Future

Mission-Work That "Connects"—Resolve Opens the Path
Work as a Family Business—Only the President's Position Was Assigned
Let Go the Troubles That Were Brewing
The Beginning of the Trial—He Was Not Able to Hear the Calling
Calling from an Even More Difficult Trial
Starting Point for Seizing the Initiative:
Even in Closing a Company, There Is
a Way to Do It
We Will Resign
Mr. President, Let's Do It Together!
I Wanted to Manage a Company by Trusting Others—Encounter with Mission-Work
Independence from the RCC

Mission-Work That "Nurtures"—Becoming a Mother
Marriage Different from Her Dream
I Hate This Life but There Is Nothing I Can Do
A Fateful Encounter
This Child Has Been Entrusted to Our Care
Parental Relationship—Responsibility and Control
Age of Rebellion
Encounter with the Study of the Soul Changed Her Life
That Time Had Come
Fulfilling the Mission-Work of Becoming a Mother

Mission-Work That "Encourages" Others—A Single Path Is Certain to Exist
Longest Jump
Promising Athlete
The No-No-Yes Principle—Need for Training of the Mind
Trial
Days of Endurance
It Is All Over for Me
A Single Path May Really Exist
The Soul Did Not Forget
Once More Wind Blew
Another Trial—Am I Cursed by Fate?
New Beginning
Even with Everything Lost, Life Guides Us to Mission-Work

Mission-Work That "Heals"—Medical Care That Puts the Soul into Perspective
Life of a Doctor Also His Parents' Dream
The First Setback
"Living a Short Life Is Unhappiness" Is an Arrogant View of Human Beings
Challenges to Take On Come into View—Access to Mission-Work
Is It a Defeat If Medicine Cannot Bring About a Cure?
Experience Transcending the Conventional Wisdom of Medicine
A Case That Hospitals Could Not Handle
Her Decision
Final Family Trip
Inner Conflict of the Parents
Final Hours
Medical Care That Puts the Soul into Perspective
Every Individual Is a Member of a Mission-Work Orchestra

Chapter 2: Mission of Human Beings—Mission-Work

People Exist to Resist the Laws of the World
The Law of Disintegration and the Law of Uncontrollability Dominate the World
That Is Where All Problems Are Born
People Who Defy the Laws of Disintegration and Uncontrollability

Redefining the Work of Human Beings as Mission-Work
Diagramming the Mission of Human Beings
Because There Is a Problem, a Strong Aspiration Is Born
Redefining Work: Work Is a Channel That Links Individuals to the World
What Is Mission-Work?

The Reason Why Anyone Embraces Mission-Work
Begin from a View of Human Beings as Souls—Aspirations and Regrets Are the Driving Forces in Life
Aspirations Induced by Regrets—Four Themes of Life

From Reluctantly Accepted Work to Mission-Work
Mission-Work and Reluctantly Accepted Work
"A Life That We Begin from Oblivion" Prioritizes the Pleasure-Seeking Principle
Severance of the Self and Reality Leads to Reluctantly Accepted Work
Mission-Work Will Appear When We Are Ready—Subject-Object Unity and Deep Level of Necessity

Activate Mission-Work
Recovery after the Second World War Was Filled with Mission-Work
Time to Activate Mission-Work

Chapter 3: The Way to Search for Mission-Work

Practice 1: Searching for the Aspiration within You
Searching for Mission-Work—A Fascinating but Extremely Difficult Task
[Practice 1]
Thousands of Aspirations and Thousands of Problems—Redefining All Types of Work

Practice 2: Discovering the Type of Your Aspiration on the Six-Dimension Chart
First Axis—Troubles and Visions
Second Axis—People, Systems, Things
People, Systems, and Things That Brought About the Meiji Restoration
[Practice 2]

Practice 3: Thinking of Your Work on the Six-Dimension Chart
Six-Dimension Chart of Work
[Practice 3]

Practice 4:
Deepen Your Work by Applying the Inside-Out Approach to Your Aspiration
Reluctantly Accepted Work—Discord between Aspiration and Work
Search by the Inside-Out Approach
[Practice 4]

Practice 5:
Deepen Your Aspiration by Applying the Outside-In Approach to Your Work
Search by the Outside-In Approach
[Practice 5]
Ignition Point of Inner Explosion and External Trial
In Order to Build a Most Precious Future

Chapter 4: Birth of In-En-Based Human Beings

The Law of In-En-Kaho Puts Human Development in a New Perspective
Change in Its Entirety—Phase Transition
Progress of Mankind
Flow of Energy Shown by In-En-Kaho
Negative In-En-Kaho
In-En-Based Human Beings and Kaho-Based Human Beings
Great Decision

How Can We Become an In-En-Based Human Being?
From Kaho Side to In-En Side 1:
Transcending Pleasure-Pain
From Kaho Side to In-En Side 2:
Overcoming Superior-Inferior and Homing In on the Goals
From Kaho Side to In-En Side 3:
Power to Create Conditions (En)
From Kaho Side to In-En Side 4:
Making Preparations and Exceeding the Speed of the Law of Disintegration
From Kaho Side to In-En Side 5:
Breaking the Illusion about Position

Let Us Begin Doing Our Best for a New Era
Can Only 20% of Us Stand on the In-En Side?
The Era Is Calling For In-En-Based Human Beings
Let Us Begin Doing Our Best for a New Era

Price(apple book/Kindle US$14.99)