Global GENESIS Project Study
Global GENESIS Project Study
With this one-year study series, members can understand the Study of the Soul on a deeper level through experience.
This is a series of study sessions for learning the theory and practice of the Study of the Soul for a period of one year. The study includes four lectures by Takahashi Sensei and weekly sessions. At Project Activities (GLA's volunteer activities), members can deepen the understanding of the Study of the Soul through participating in activities.
Three Appealing Features of the Global GENESIS Project Study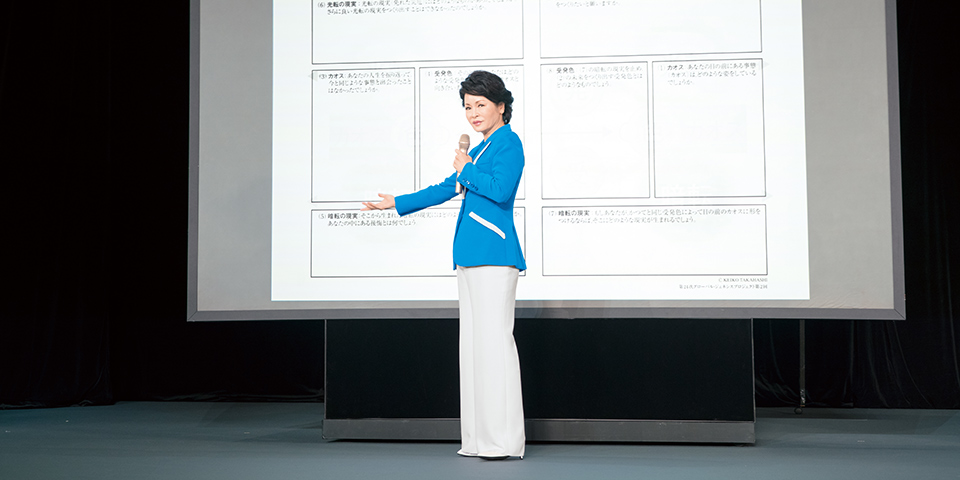 The Global GENESIS Project Study is currently held regularly in 109 locations in Japan, connecting to 6 other locations overseas. Approximately 12,000 members are pursuing the study. The following are three appealing features of the study.
1. You can deepen the understanding of the Study of the Soul!- Four Lectures by Takahashi Sensei in a Year and Original Study Materials
You can directly listen to Takahashi Sensei's lecture four times a year. In addition, Takahashi Sensei has created original study materials to help us take in the essence of her lectures more deeply for further understanding.
2. You can charge your living energy! -Weekly Study Sessions
By joining the weekly sessions, you can learn from Takahashi Sensei's videos, return to your origin, and recharge your living energy, even in your busy life.
3. You can refine your power of practice! -Project Activities
Project Activities (volunteer activities) will allow you to experience the theories of the Study of the Soul in actual life so that you can comprehend it from your own experience. Through Project Activities, many have experienced major changes in their reality at their workplaces and in their families.
Participants' Voices
Listening to Takahashi Sensei's lectures, I feel that I can look at the current reality from completely different perspective in a different dimension. The practice reports helped me understand what to change and how, and it has made me more hopeful. I hope to continue connecting my studies and reality so that I can create a path to each event in my life.
(A man from Chukyo in his 50's)
What brought major transformation in me, was the work on the study materials during Project Activities, The Path of Prayer: Revised Edition, and advice from fellow members. I still cannot forget the refreshing feeling of my challenge that I live with a true heart for the first time. I became closer to those who were once distant, and I was able to take the first step toward a new future.
(A woman from Tokyo in her 40's)