Topics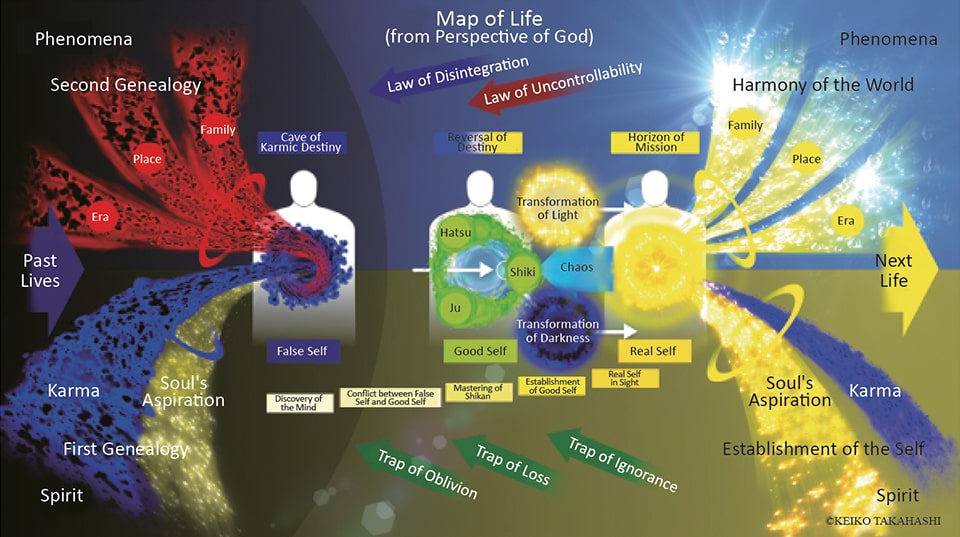 The Map of Life, in the original Japanese, Ninden-Keirin-zu, indicates a promise that is made between human beings and Heaven. It shows how the Great Existence or God views the life of human beings, as well as how our life is to be.
The Map of Life is based on a cyclical perspective of life that perceives human beings as souls that harbor an eternal life. The cyclical perspective of life is a view that the soul repeats the cycle of past life, present life, and next life in order to overcome its themes and issues (Karma) and achieve its aspirations.

Based on such perspective, the Map of Life displays the path of life in three phases; namely, Cave of Karmic Destiny, Reversal of Destiny, and Horizon of Mission. Any one of us who once is born into this world, is swallowed up by Karmic Destiny comprised of Karma (immaturities of the soul) and Three Streams of Influence (family, place, and era). This process is explained in the Map of Life as the Cave of Karmic Destiny.

Furthermore, if we can escape the Cave of Karmic Destiny, we can reach and live out our mission that our soul aspired to fulfill. This process is explained In the Map of life, as the Horizon of Mission.

The Map of Life was first revealed at the 2000 Zenyu (Good Friend) Gathering. Since then, Takahashi Sensei has taught us numbers of theories of the Study of the Soul and guided many members on their paths of Practices of the Divine Truth. With such accumulative efforts as a base, a new Map of Life was revealed in 2017, having at the center the Reversal of Destiny as practical wisdom to walk the path from the Cave of Karmic Destiny to the Horizon of Mission.
Source of reference:
2017 Gathering in Gratitude "Map of Life: A Life from the Perspective of God" (Lecture BD, DVD, and CD)