Topics
Idling, Fading Out, Shutting Away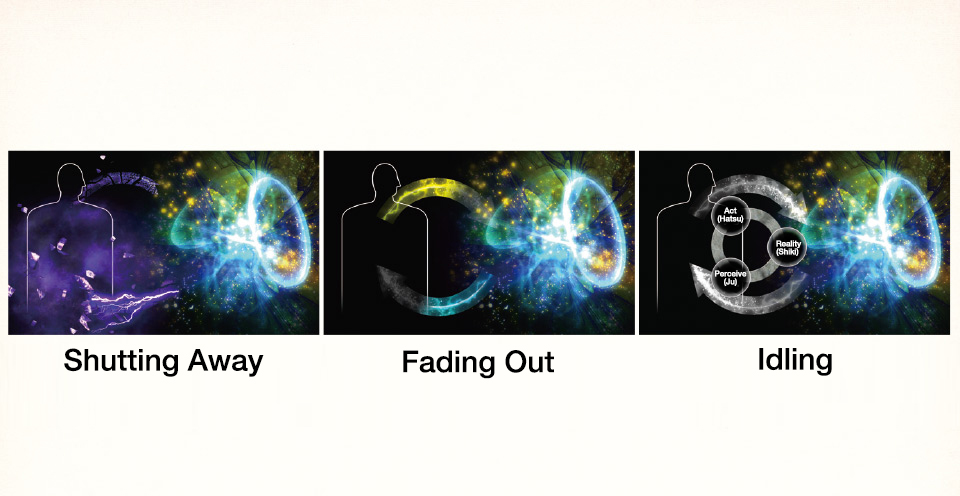 What stops interaction with the world (Inside-Out and Outside-In) that is necessary for us to realize our aspirations, is what can be called, Three Evil Brothers that exist within our mind. Namely, they are called, Idling, Fading Out, and Shutting Away.
The interaction that works from our inner side to the outer world is called Inside-Out. What works from the world to us is called Outside-In. Within our minds, there exist three factors that can be called Three Evil Brothers that bring our interaction with the world to a halt.

The eldest brother is Idling. It is a state in which we are using energy, but things are not moving. In this state, we do not have concrete interactions with the world by using thoughts, words, and actions. Our mind can't concentrate and is easily distracted by other things, and we end up consuming the time of life for killing time.

With the second brother Fading Out, even though we initially have strong aspirations, as time passes, their energy runs out. In the end, interactions with the world decrease and stop.

The youngest brother is Shutting Away. When we interact with the world, at times, we face various Outside-In from the world, such as unintended obstacles and disturbances that seem unreasonable. When we reach our limit of enduring pressure from outside, with accumulated complaints and antipathy in our minds, we end up snapping out and reject others.

If we can avoid these Three Evil Brothers and patiently interact with the world (Inside-Out and Outside-In), we can create the future that we wish for.
Source of reference:
2016 Youth Seminar, "We Can Change the Future!" "Interaction with the World" Will Realize Aspirations (Lecture DVD/CD)