Topics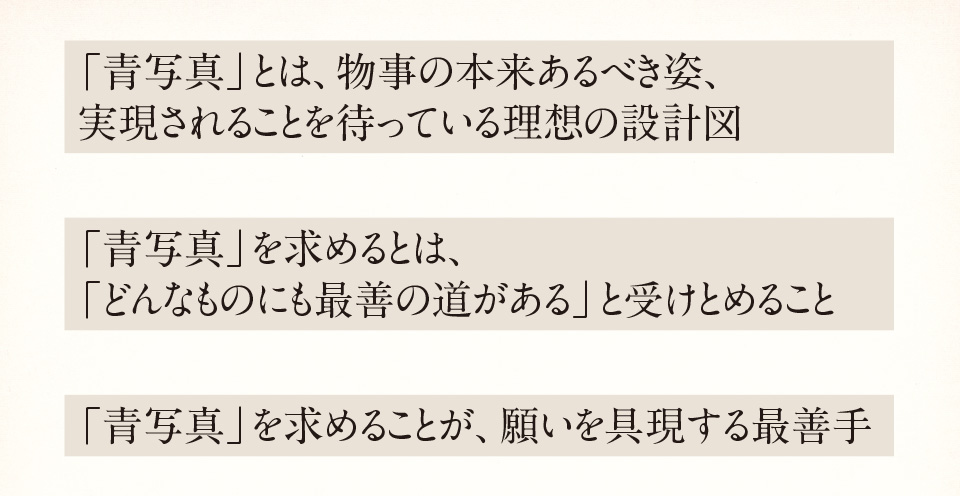 The Study of the Soul teaches us that every encounter and event has a blueprint, an ideal plan of how it should be and that awaits to be realized. With this perception, we are able to search for the best possible path at all times.
The word blueprint generally means the conceptual drawing of completion or future plan.

In contrast, the Study of the Soul teaches us that any event we encounter or relationship in life has a way how it should be, blueprint, and the destination that we should aim at.

"Everything has a blueprint." If we put another way, it means that "there is always the best possible path in any encounter, event, or situation." Also, searching for a blueprint in every encounter, event, or situation brings a crucial difference in our life.

For instance, when we face trials or problems that seem difficult to solve, we tend to be caught up in the notion of "being able to do it or not," ending up mentally exhausted. However, if we think that "anything has a blueprint and the best possible path," we can believe in the existence of its answer and single-mindedly search for it without giving up. As a result, we can see exponential growth in our ability to solve problems and our power of creation.

If we were to achieve something in this world, no matter how grand our aspiration or vision is, we must face various trials and hurdles in order to achieve it. By believing in the existence of a blueprint and continue to search for it, we can become able to actualize our own aspirations and visions.
Source of reference:
The Soul Doctrine as a Way of Life, pp.97-120 "Live by Drawing a Blueprint (Vision): The Power of the Soul Latent within Us";
Reversing Destiny, pp.127-129 "Work to Seek a Blueprint"; G. monthly magazine, 2016 October, "Compass of the Times 151: Envision the Goal";
G. monthly magazine, 2016 November, "Compass of the Times 152: To Dig Deep Down";
G. monthly magazine, 2017 August, "Introduction to the Study of the Soul 104, Ideal and Reality I (available only in Japanese)".