About the Divine Truth Cards
You can receive a Divine Truth Card at the New Year Gathering or at the Spring Gathering. This page summarizes the features of the Divine Truth Cards in three parts.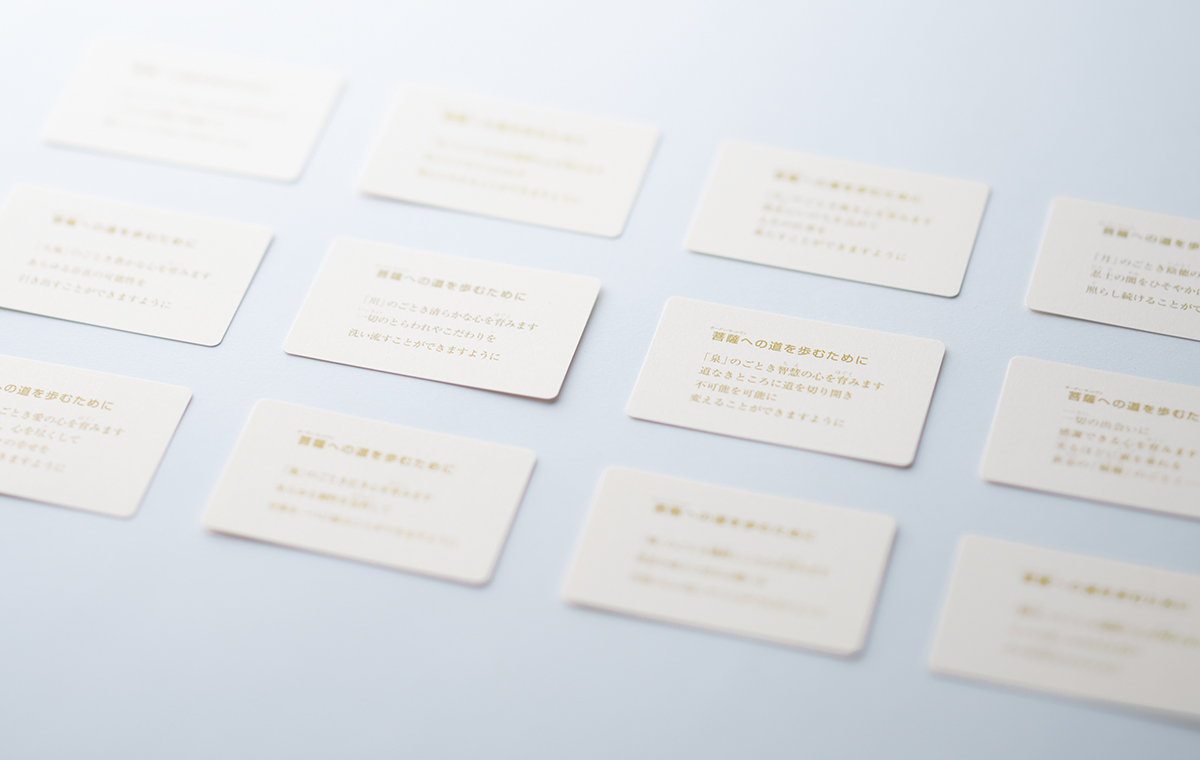 1 Each Card Receives Light and Spirit
At the Ceremony for Purification and Renewal that takes place on December 30th every year, with earnest prayer to the Great Existence, God, Takahashi sensei gives spirit into all Divine Truth Cards that GLA members will receive the following year.

"Dear, God, grant us guidance so that the life of each Divine Truth Card that contains your light will guide and encourage each and every Bodhisattva, so that they can make major troubles to minor ones, double their joy, halve their sadness and bloom their life's potential in a true sense, so that they can serve others as their good friends whose ways of living encourage, heal and motivate others to live. Please grant us the guiding light and the power to protect ourselves from many hardships. Grant power to the Divine Truth Cards so that we can walk on the road of our true selves, the road to bloom our soul's potential. Please share your light into the cards." (From the prayer at the Ceremony for Purification and Renewal, December 30th, 2019) Sensei equally gives spirit into each of the Divine Truth Cards. That is why you will receive the card with the most suitable words of prayer for you, whomever you receive it from at GLA's gatherings.
2 The Divine Truth Cards Serve as a Guidepost for the Year.
The words of prayer written on the Divine Truth Cards serve as an important guidepost for us to live each year.

"The words on my Divine Truth Card encouraged me when I faced a trial, and I was able to take a step forward."

"When I was torn between choices, my Divine Truth Card helped me choose the best possible path." "I've found it mysterious that a Divine Truth Card I receive each year applies to my situations perfectly."

Many people have felt in this way.

The Divine Truth Card concretely transforms our mind and reality and guides our journey for the year. It serves as the best amulet. Let's use it as a guidepost for our everyday lives by always carrying and taking a look at our card.
3 Words of the 12 Bodaishin are Printed on 12 Different Cards.
Each card has one of the 12 Bodaishin's words on it. We receive a Divine Truth Card inscribed with the words of one Bodaishin and will spend a year cultivating this Bodaishin. Excavating the Bodaishin that lies dormant within us will transform our reality and life, which will lead to illuminating the world around us.

The Divine Truth Card will open up our future.
Takahashi sensei has taught the meaning and ways to deepen the 12 Divine Truth Cards.
When we see someone in trouble, we wish to help them, and when someone is going through a difficult time, we naturally wonder if we can find a way to help them. Even if it is just a small thought, it is a gem of Bodaishin.
The word Bodaishin originally refers to the Buddhist concept of "the mind that seeks enlightenment." Takahashi sensei defined Bodaishin more broadly as "the heart that seeks one's true self, loves others, and wishes for harmony in the world", and entrusted the brilliance of Bodaishin that harbors various possibilities to the 12 hearts. By refining and living this Bodaishin, we will be able to make our lives and the world shine.
Click on the buttons below to learn more about each Bodaishin.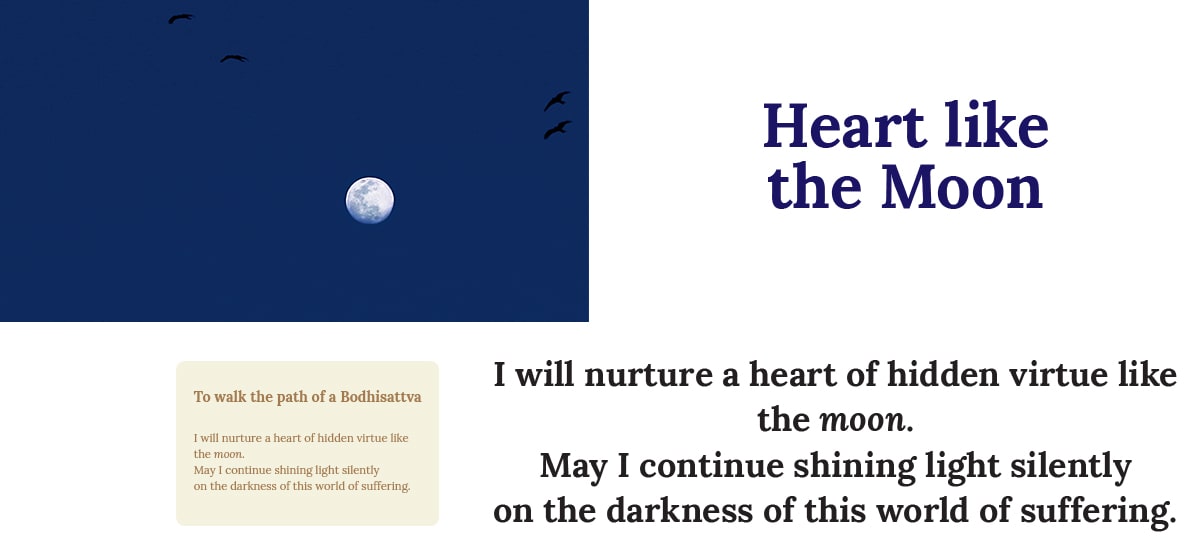 To those of you who seek a heart like the moon: Please be mindful of the word silently. To live with the aspiration of shining light on your surroundings like the moon means to accumulate unseen, anonymous acts of kindness no matter how subtle they might be. They are to be achieved in a subtle manner like a shadow. Believe in the aspiration within you to want to support, help, and protect others, even if it goes unnoticed.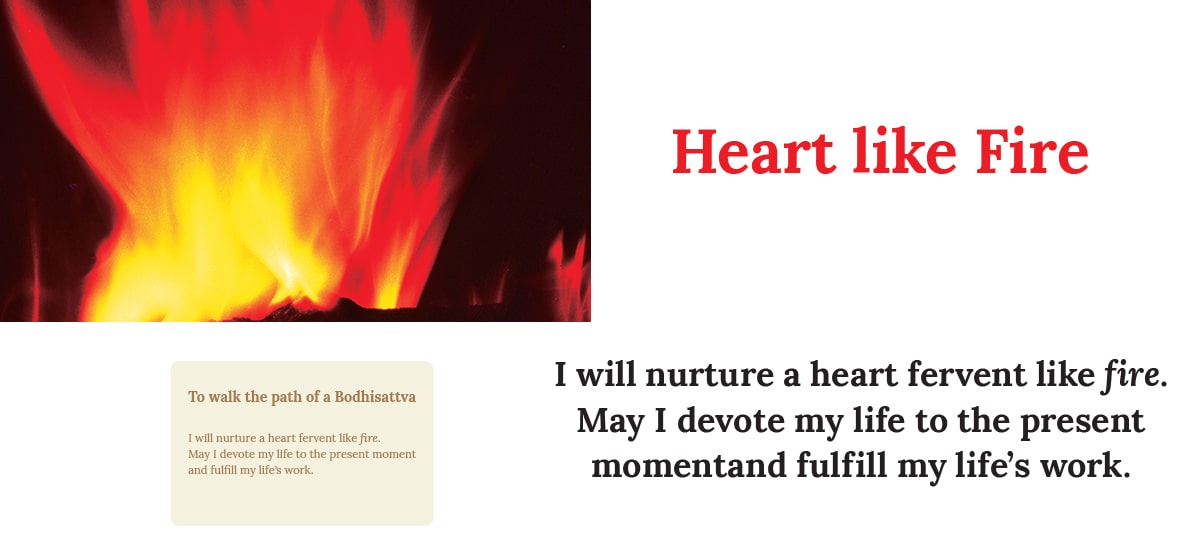 To those of you who seek a heart like fire: Please keep it in mind to devote all of your strength. Wanting to live like fire represents the aspiration to imbue eternity into the fleeting moment in time. It is to give all your thoughts and consideration to each moment and to live exerting all of your strength regardless of the time or the place. Do not forget that the passion to realize such a way of living is definitely hidden within the center of you.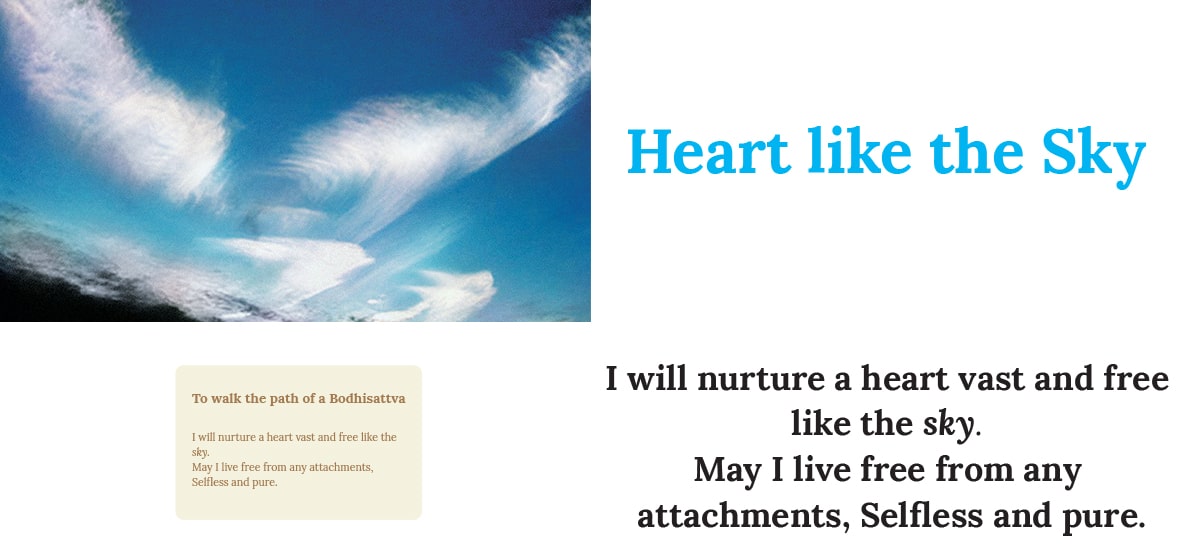 To those of you who seek a heart like the sky: Let me give to you the word transcend. As you aspire to be truly free to choose what is important, the conditions in your life as well as the constraints and shackles that have come about from living in this world may impose immense limitations on you. Indeed, they should not be neglected. This is all the more, a reason for you to accept them and go beyond them as you continue to imagine yourself focusing on what is important to you.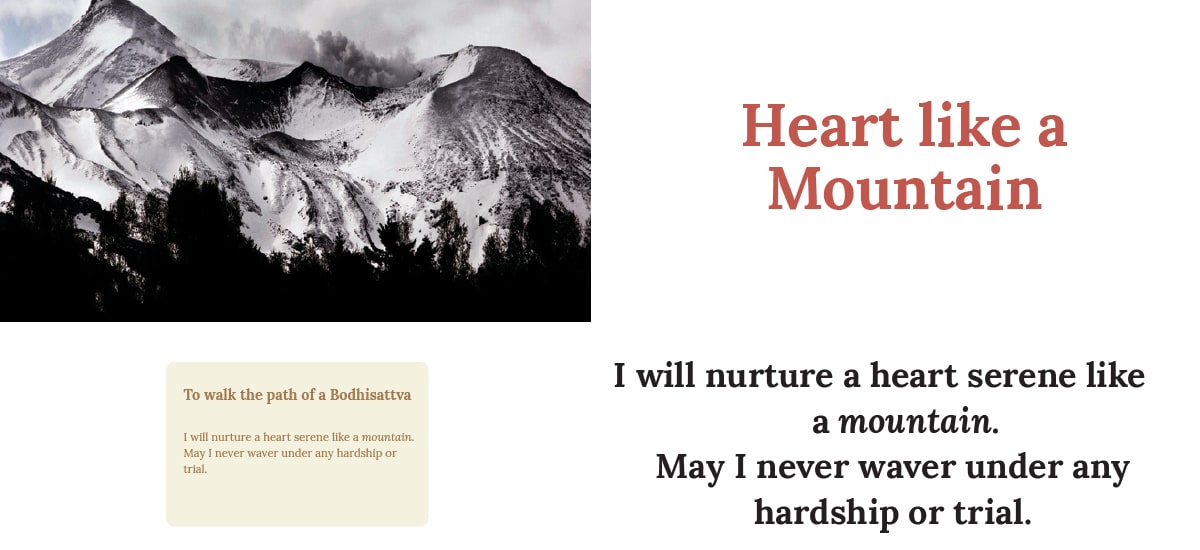 To those of you who seek a heart like a mountain: Pray deeply to have a stable center of gravity. When faced with difficulties or trials, we cannot escape from having a wavering heart. We might at times lose composure or become indecisive. However, what is essential at that time is to maintain the center of gravity for what is most important to you and what to protect. Keep in mind that there is always a stable center of gravity within you and continue to focus on it.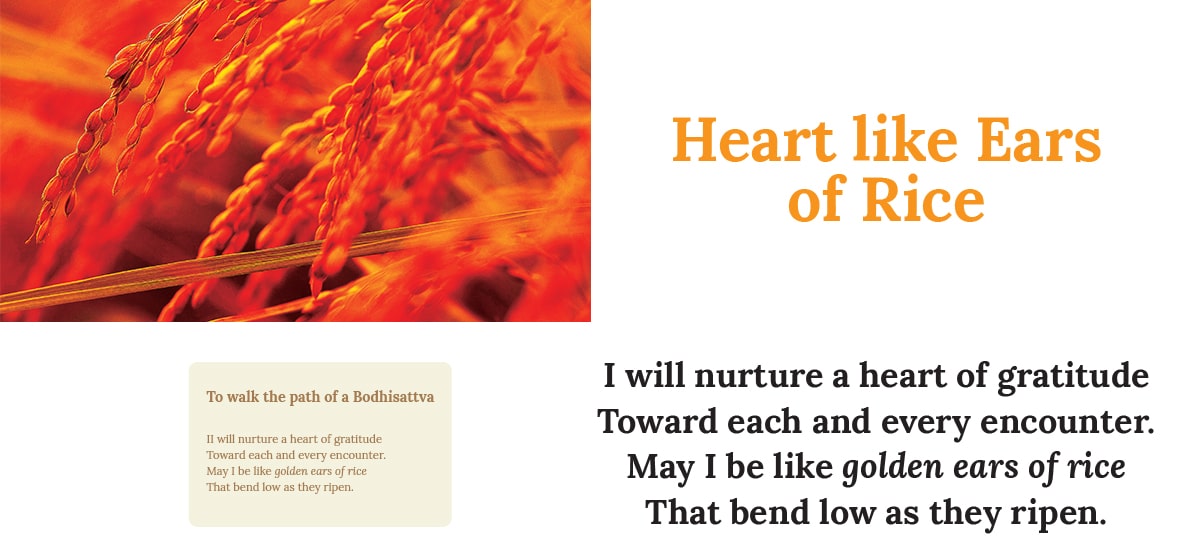 To those of you who seek a heart like ears of rice: Please be mindful of the words on its own. How great is the assistance and blessings granted to us just by being alive? If you accept this fact without ever forgetting about or losing sight of it, you will be able to treasure realities with a feeling of gratitude arising within you on its own toward each moment you live and toward every person you encounter.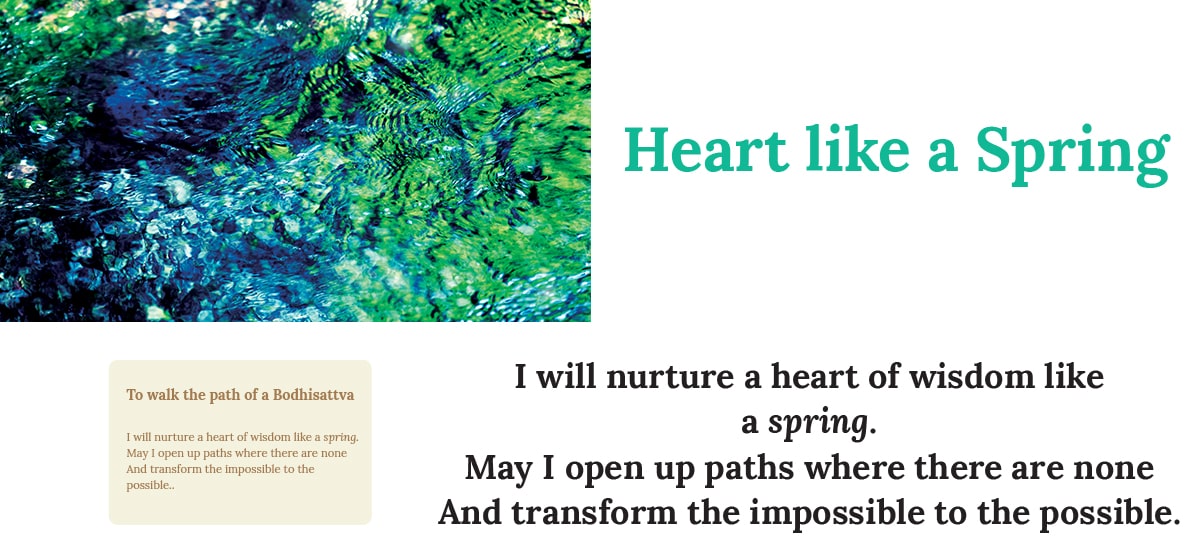 To those of you who seek a heart like a spring: Please keep on praying that you are opening up a path where there are none. A spring implies a place filled with wisdom. We cannot easily solve all difficulties and hardships we may face. Rather, they exist as a wasteland that seeks us out to blaze a new path where there are none. When you are prepared to open up a path, a heart like a spring will well up within you.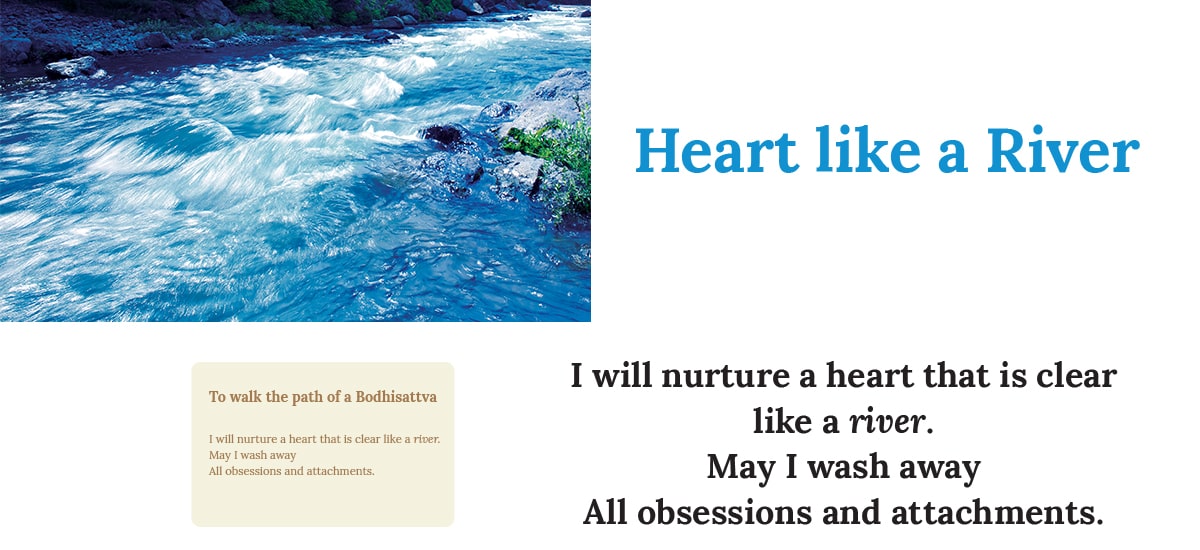 To those of you who seek a heart like a river: Please pray that you will accept things as they are. When you face a reality that is hard to accept or a situation that is difficult to forgive, or when you suffer from having attachments and obsessions, remember that all the realities exist like a river that never stops flowing even for a moment. In order to take an actual step towards the future, entrust yourself to the fact as it is that is always being renewed.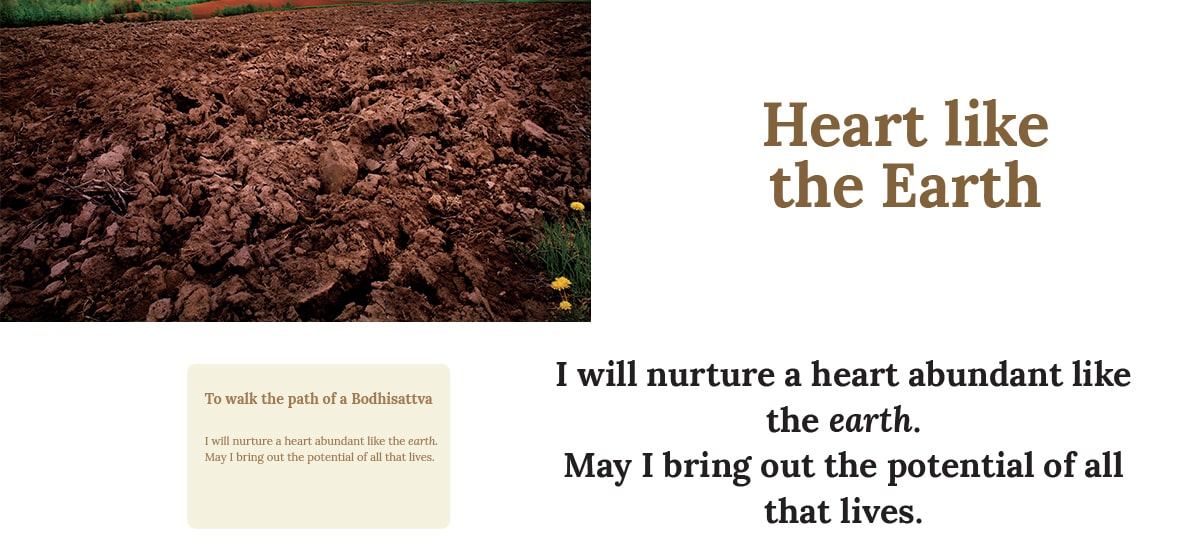 To those of you who seek a heart like the earth: Please keep in mind a heart of a parent. The blessings that the earth produces and the richness of the workings of the earth are unlimited like the love of a parent being poured onto his or her child. Just as the parent's deep affection becomes the strong force to believe in and to open up their possibilities, you also have an aspiration within you to accept all people, things, and events that you encounter to open up their possibilities.

To those of you who seek a heart like the Kannon Bodhisattva: Please be mindful of empathizing with others' pain and sorrow. It is our premise that we all shoulder suffering and sorrow regardless of who we are. If we human beings were born in the same environment, if we shared the same conditions of life, we all would shoulder the same sorrow and pain. When we acquire this perspective of empathizing with others' pain and sorrow, we gain the strength to truly listen to the voices of others. Only then will we begin to walk the path of feeling the pain of others to heal them.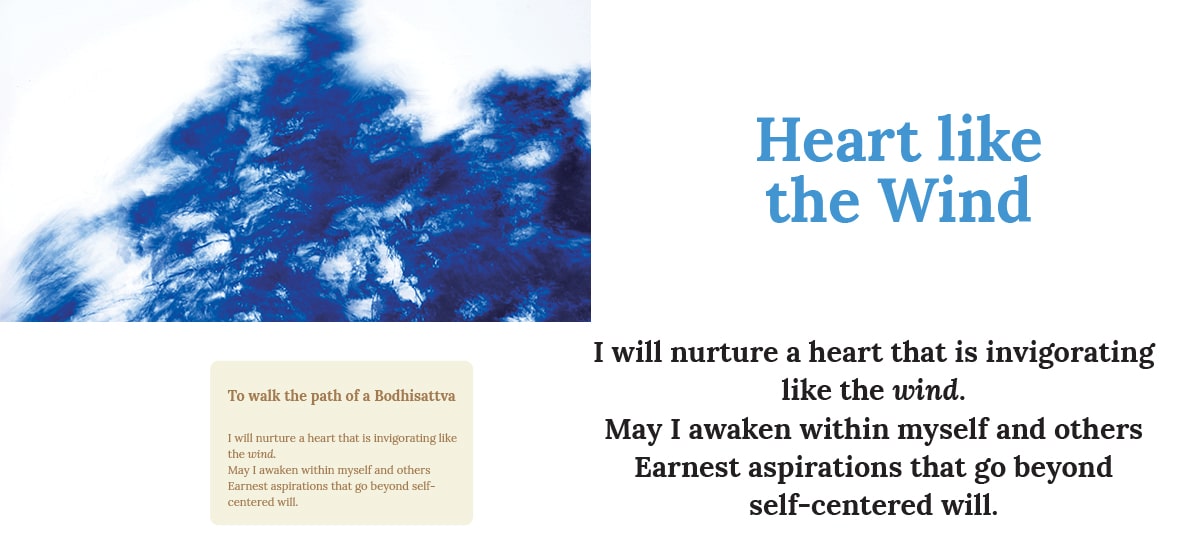 「To those of you who seek a heart like the wind: Please keep in mind to be invigorating. Regardless of when or what the circumstances may be, move forward with a heart that is invigorating in returning to the source of the matter while seeking its true nature. Even if you are faced with difficulties or trapped in stagnation, move on courageously toward the center. Keep in mind that this strong and invigorating attitude will revive your aspirations engraved deep within you.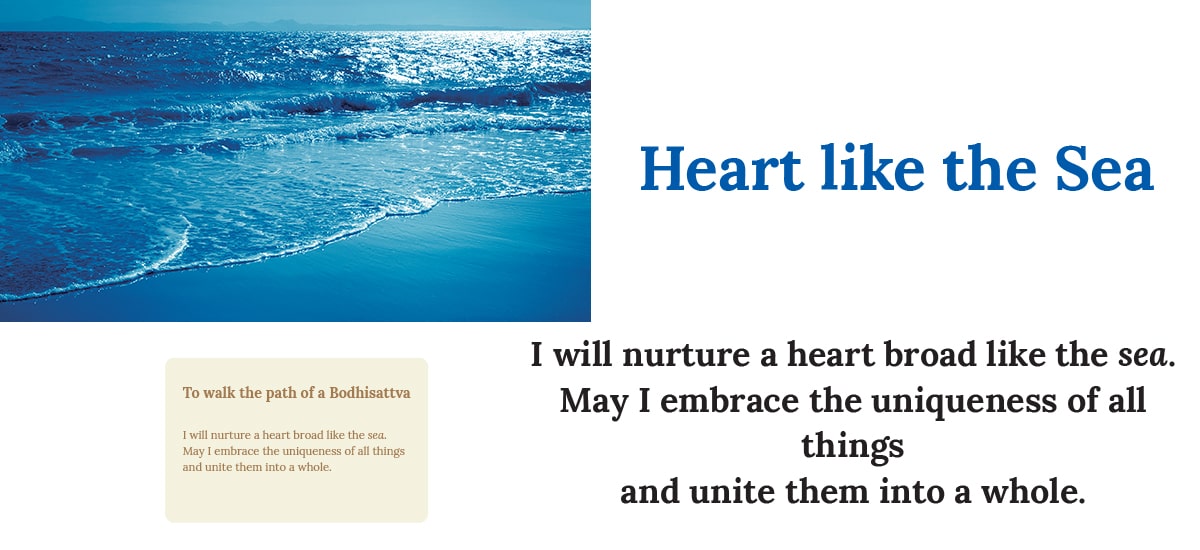 To those of you who seek a heart like the sea: Pray deeply that all things are united as a whole. No matter how many differences we have, they exist so that we can connect at a deeper level and to work together with deeper appreciation. As we purify ourselves, we will be able to see the connection which we could not see before because of our differences. Please believe that you have the strength to think of the whole that is joined together as one and accept everything.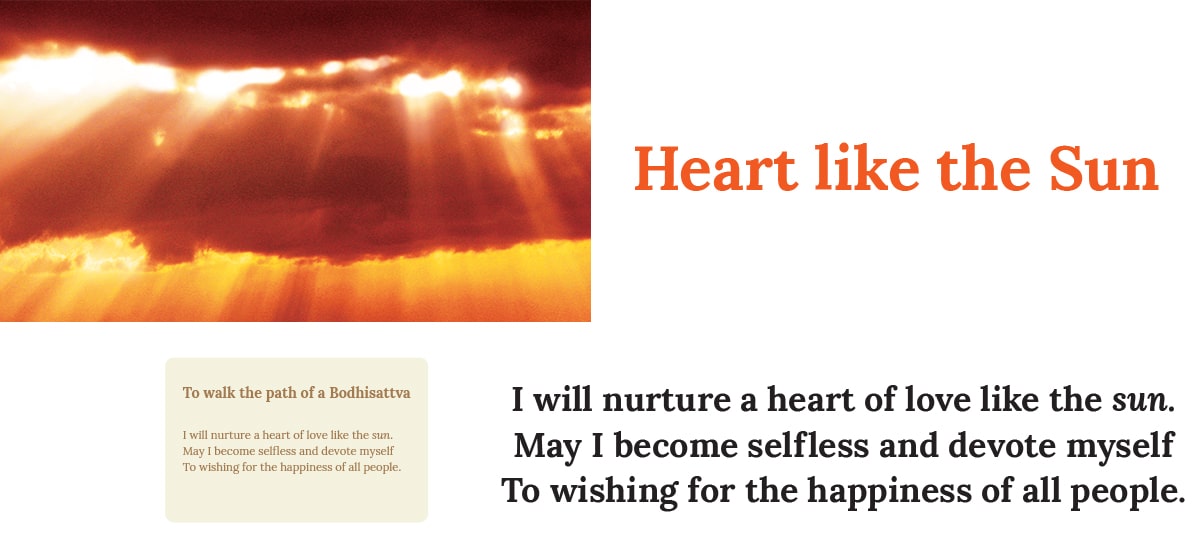 To those of you who seek a heart like the sun: Pray deeply that you can take joy in giving. We begin life by receiving many things. We spend time in life feeling pleasure and joy from being a recipient. However, at some time in life, we come to find much more joy in giving. The bond that we have with others and the world is none other than a precious brightness brought by the joy of giving.
---